It's due to start the series of posts of the roundtrip with the capital city, Wien. Vienna was the largest city in the country, a true imperial capital. It had most inhabitants in 1916, about 2.2 million people. The central administration and management of the Monarchy, the most important cultural and political institutions were located in Vienna. It was the largest German-speaking city in the world, ahead of Berlin during this period.
The first badge, with the inscription "Wiener Landsturm", depicts the rethinking insurgent with the Stephansdom in his mind. Older age groups were usually not assigned to the first line regiments, but to the auxillary troops, which were entrusted with the construction, logistical and other tasks behind the front line. The Dome appears ont he badge floating in the clouds above the hillside opposite the trenches. On the left is the city crest.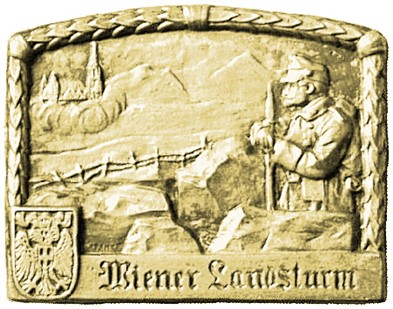 One of the well-known symbols of the city Vienna the Stephansdom has stood in the main square of the medieval city core for about eight hundred and fifty years. It has a length of 101 meters and a tower of 137 meters high. In the spring of 1945, a bomb hit caused extensive fire in the roof and the vault of the main ship and one of the side ships collapsed. The restoration took place in the original form, so today's image of the cathedral is similar to the depiction on the postcard of the period, including the colourful glazed roof tiles.