The Castle of Munkács is one of the known and important sites of Hungarian history. The castle is best known for the presence of Ms Ilona Zrínyi here, who was the mother of Ferenc Rákóczi II, the "Great Prince". She escaped with child Rákóczi to the fort in 1686 when her second husband, the prince of Upper Hungary Count Thököly was defeated by the Habsburgs. Munkács today belongs to the Ukraine. The town and the surrounding "Zakarpatski Region" shows up the most turbulent history of any European regions. It belonged to no less than five different states during the short 20. Century. Austria-Hungary (-1918), Czechoslovakia (1919-1938), Hungarian Kingdom (1938-1945), Soviet-Union (1945-1992), Ukraine (1992-). Inhabitants may have changed state citizenship five times without moving.
Hungary celebrated its 1000 years presence in the Carpathian Basin in 1896. For this occasion millennium monuments were erected in several towns of the Kingdom. The millennium monument of Munkács also plays a central role in the Kappenabzeichen of the 11th Honvéd Infantry regiment. It is also depicted on the contemporary photo of the castle. The millennium monument of Munkács depicted the sacred bird of the Hungarians the turul on a 38-metre-high pyramid. The turul monument could only remain in place for a few years. In 1918, the Czechs destroyed it. In the Monarchy, Munkács was the seat of Bereg County. It was an important military supplement center. The headquarters of the 11th Honvéd Infantry Regiment was operating here. The nice Kappenabzeichen of the 11th Honvéd shows the Millennium turul doubly, as next to the monument in the background, he soars in the fore front of the picture holding the sword in his beak.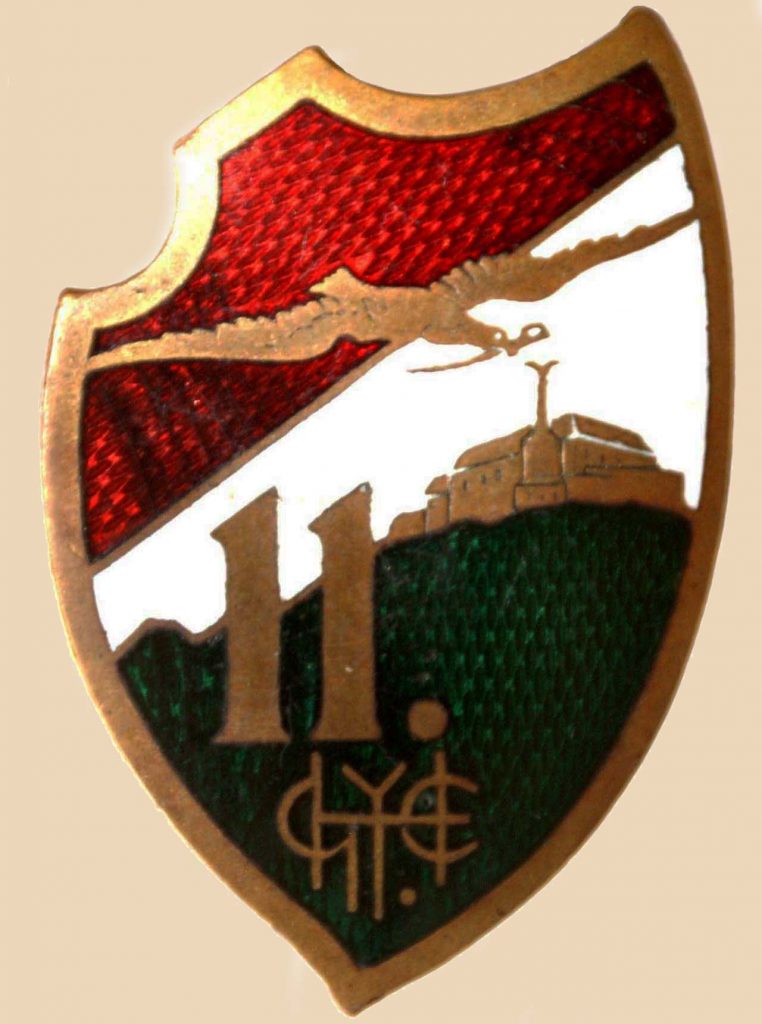 The Monument has been reerected in 2008.